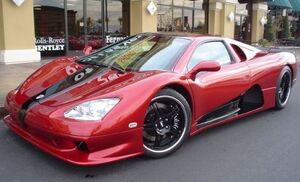 The SSC Ultimate Aero is an American-built mid-engine supercar by Shelby SuperCars. The higher-performance limited production version, the SSC Ultimate Aero TT produces more emissions-legal horsepower than any other production automobile in the world & holds the Guinness book of world records record for being the second fastest production car in the world (behind the 2010 Bugatti Veyron Super Sport) with a recorded speed of 412.28 km/h (256.18 mph).[2] This speed wa is achieved during tests on September 13, 2007 West Richland, Washington, United States and verified by Guinness World Records on October 9, 2007. The production of the Ultimate Aero is ending in 2013 with the five Ultimate Aero XTs. It's succesor will be the SSC Tuatara.The rival is Henessey Venom
Ad blocker interference detected!
Wikia is a free-to-use site that makes money from advertising. We have a modified experience for viewers using ad blockers

Wikia is not accessible if you've made further modifications. Remove the custom ad blocker rule(s) and the page will load as expected.