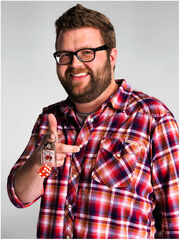 Rutledge Wood 
was one of the three presenters of the
US adaptation
of the popular BBC motoring show
Top Gear
, appearing alongside
Tanner Foust
and
Adam Ferrara
. Rutledge served as a host of the show since the
first season
.
Rutledge Wood is heavily involved with the American motorsport of NASCAR and is a star in a show called NASCAR Smarts which airs on SPEED. According the History Channel website, Rutledge has owned over forty cars, his favorite of which is his 1953 Plymouth Suburban. Rutledge Wood has featured in all sixty two episodes of Top Gear US that have aired to date including a special episode in season 2 dedicated just to him.
Ad blocker interference detected!
Wikia is a free-to-use site that makes money from advertising. We have a modified experience for viewers using ad blockers

Wikia is not accessible if you've made further modifications. Remove the custom ad blocker rule(s) and the page will load as expected.