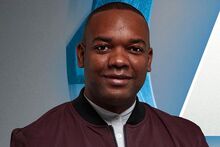 Rory Reid is a British motoring journalist and the winner of Chris Evans' 30-second Top Gear presenter auditions.
Rory will present the show's twenty-third series with Chris Evans, Matt LeBlanc, Eddie Jordan, Chris Harris, Sabine Schmitz and The Stig.
Rory Reid was the former editor-in-chief of Recombu.
Ad blocker interference detected!
Wikia is a free-to-use site that makes money from advertising. We have a modified experience for viewers using ad blockers

Wikia is not accessible if you've made further modifications. Remove the custom ad blocker rule(s) and the page will load as expected.