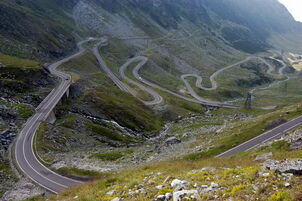 The Romanian Road Trip was a road trip conducted by Jeremy, Richard, and James. It was featured in the season premiere of the 14th series of Top Gear. The aim of the road trip was to find the supposed world's greatest driving road, the Transfagarasan highway. Jeremy brought an Aston Martin DBS, Richard a Ferrari California, and James a Lamborghini Gallardo.
Trip Overview
Edit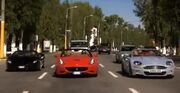 The trip started in Constanta in south-east Romania where they were given the challenge of finding the Transfagarasan highway. To make talking to each other easier, they decided to connect their phones to the Bluetooth systems in their cars. The process was easy for Jeremy and James, but Hammond struggled. They then continued on their way to Bucharest, the capital of Romania. While on the motorway, Hammond's Bluetooth system decided to call a man named Vernon Kay twice.
At this point, the trio pulled over and made up a race: be the first one to program their GPS to the People's Palace and then get there. Jeremy and Richard accomplished this easily while James' GPS didn't even have Romania listed as a country. Jeremy and Richard eventually reached the People's Palace but stopped racing when they saw the size of it. After James arrived later, they then were allowed to enter the tunnels under the Palace and decided to see who's car was the loudest. In the end they discovered that all the cars were equally as loud.
The next day they continued on towards the Transfagarasan highway. Jeremy then gave James a present, which was a second-hand Dacia Sandero. James then took it for a quick drive before parking behind a truck which subsequently backed into it and damaged the right side. They continued on the route but eventually got lost. James proceeded to crash into an older Dacia 1300. In the process, he dented the front of the Lamborghini.
Since the end of the day was approaching, they decided to sleep on a dead end road in their cars because they couldn't find a hotel. When they woke the next morning however, they discovered that they had slept on the road leading to the base of a dam. They set out driving yet again and eventually found the Transfagarasan highway. They all labelled it the best driving road in the world.