The Riviera Hatchback Road Trip was a road trip conducted by Jeremy, Richard, and James. It was featured in the 2nd episode of the 17th series of Top Gear. The trip started in Lucca and ended in Monaco. The aim of the trip was to find the best hot hatchback.
Introduction & Choices
Edit
The trip started in the old town of Lucca and the presenters introduced their cars in the town centre. Jeremy brought a Citroen DS3 Racing, Richard bought a Fiat 500C Abarth (which was lauded because it's not a proper hot hatch but a supermini instead), and James bought a Renault Clio RS 2.0. Jeremy and James argued with Richard that his car wasn't a hatchback, but just a convertible.
Challenges
Edit
Challenge 1 - Exiting Lucca
Edit
Their first challenge was to get out of the city of Lucca. At first the presenters thought the task was easy, but soon discovered otherwise, as the streets were extremely small and impossible to navigate. Richard decided to abandon his car and find the exit on foot. He later found the exit but lost time relocating his car. Jeremy wound up being the first out, winning the challenge as James got lost and ended up driving on top of the city wall he was trying to get through.
Challenges 2 & 3 - Scavenger Hunt/Photo
Edit
Their next challenge was to collect assorted items while on their way to Canelli. The items were a dog, a ceder tree, a vine, icecubes, a CD from a gas station (but they weren't allowed to get out of their cars), a bike, and a photo of as many people as they could fit into their cars. The winner was the first person to get to Canelli with all the items.
To make the challenge even harder, they had not been given money, but English items to barter with in order to get their items. Richard was unsuccessful and finding a dog and as such bought a toy one instead. Jeremy won the challenge in the end, whilst Hammond came second, and May last. The photo was later scored independently of the scavenger hunt.
Challenge 4 - Monaco Grand Prix
Edit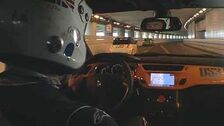 For their final challenge, the presenters were told to drive to Monaco - at the same time that the Monaco GP was taking place. This was no coincidence, because the challenge called for them to race for three laps around the Grand Prix track in their hatchbacks in a bid to post the fastest lap - a challenge that Jeremy, a long-established Formula 1 diehard, called the fulfillment of a dream he had had since he was little.
Once they arrived in Monaco, Jeremy sought out advice from Scottish former F1 driver and current BBC F1 analyst David Coulthard, whereas Richard and James got wrapped up in the pre-race parties on the docks (Richard mispronounced German F1 driver Timo Glock as "Tim O'Glock".) The next day, the presenters were mentored by some experts (Formula 1 boss Bernie Ecclestone in Jeremy's DS3R, Red Bull team boss Christian Horner in Richard's 500C, and former Renault team boss Flavio Briatore in James' Clio) before racing around the track in a bid to post the fastest lap. Even though he started last, Jeremy was able to catch and pass both Richard and James. (Some footage from their laps with Ecclestone, Horner and Briatore was included in the BBC's coverage of the Grand Prix.)
In the end for the 'getting out of Lucca' challenge Jeremy scored 10 points, James 2, and Hammond 0 after he was deducted the 5 points he won for getting out of his car. For the 'scavenger hunt' Jeremy scored 5 points, James 1 (he was deducted 1 point for his icecubes melting), and Richard 0 after the 10 points he earned were deducted for not having a real dog (2 points deducted), not having the right kind of tree (2 points), not having a CD (6 points). For 'the people in the car' challenge Jeremy scored 13, James 12, and Richard 0 after his 14 points were deducted because his people were 'sort of on his car' as he had the roof open. Finally, for the Monaco lap times Jeremy received 10 points for winning with a time of 2min 15sec, James recieved 2 points for coming last with a time of 2min 21sec, and Richard scored 5 points for coming second with a time of 2min 20sec however, all the points were deducted because his car wasn't a hatchback. Jeremy won the challenge and as such proved the Citroen DS3R was the best hot hatchback - but what interested the audience as much while the points were tallied was the fact that Richard was continually marked down to cancel out his scores. 
| | | | | | | |
| --- | --- | --- | --- | --- | --- | --- |
| | Car | Lucca | Scavenger Hunt | Photo | Monaco Lap Time | Total |
| Jeremy | Citroen DS3 Racing | 10 | 10 | 13 | 10 (2:15) | 43 |
| Richard | Fiat 500C Abarth | 5 0 | 10 0 | 14 0 | 5 0 (2:20) | 0 |
| James | Renault Clio RS | 2 | 1 | 12 | 2 (2:21) | 17 |
Ad blocker interference detected!
Wikia is a free-to-use site that makes money from advertising. We have a modified experience for viewers using ad blockers

Wikia is not accessible if you've made further modifications. Remove the custom ad blocker rule(s) and the page will load as expected.