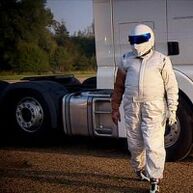 Series 12, Episode 1 saw the 5000-pound Lorry Challenge, and the first event was to powerslide a lorry. To prove this was possible, the Three were introduced to "The Stig's Lorry-Driving Cousin," who was quickly nicknamed "Rig Stig." The presenters remarked he was as fat as American Stig, but unlike his American cousin, Rig Stig had a large tan on his right arm. It could be argued that the lorry powerslide challenge was a farce: Rig Stig was using a racing-modified MAN truck and the presenters were just driving stock lorries. Nobody was able to perform a drift. Jeremy was cut by the gear lever trying this.
Ad blocker interference detected!
Wikia is a free-to-use site that makes money from advertising. We have a modified experience for viewers using ad blockers

Wikia is not accessible if you've made further modifications. Remove the custom ad blocker rule(s) and the page will load as expected.