The Renault Espace has appeared a number of times on Top Gear.
Convertible People Carrier
Edit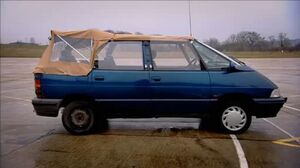 "There are convertible versions of hatchbacks, of coupés, of supercars, why not of people carriers? The presenters set out to rectify that by sawing the roof off an old Espace and then putting it through a series of tests. Conclusions? Mostly monkey proof. Not so good in car washes." Top Trumps - Top Gear: The Challenges
The Espace was made into a convertible people carrier by the boys. They put it through a number of tests. The first one was fairly simple. The Espace just had to drive to 100 m.p.h. with the hood up without collapsing. Next it had to drive through Woburn Safari Park, Bedfordshire, surviving lions and - oh no! - barbary macaques. Amazingly, the Espace survived lions and scary monkeys and soldiered on to the next challenge. The final test involved driving througha brand new car wash. This bit didn't go so well. In fact there was a fire. However, they must have saved it because it appeared on the Tractor Challenge.
Statistics
Top Speed - 110 mph
Price - £1,500
Power - 110 bhp
Historic People Carrier Racing
Edit
To celebrate its birthday the Espace got its very own racing championship (just like Ferrari and Aston Martin). It won the race and was the Historic People Carrier Racing Championship Champion.
Safety Message
Edit
Top Gear put out a short safety message about being hit by a train and the car they used to demonstrate it was a Renault Espace.
Clarkson Heaven and Hell
Edit
It appeared on Clarkson's Heaven and Hell DVD where he made it into another convertible people carrier but after five minutes it fell apart.
Ad blocker interference detected!
Wikia is a free-to-use site that makes money from advertising. We have a modified experience for viewers using ad blockers

Wikia is not accessible if you've made further modifications. Remove the custom ad blocker rule(s) and the page will load as expected.