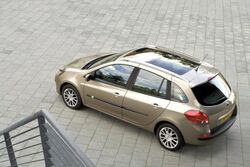 The Renault Clio estate is a small estate car.
Latest prices- £8,250 to 15,950. Most get sold for about £10,000
Top Speed- 121 MPH
Clio Estate is firmly focused on leisure pursuits. It strikes a perfect balance between sleek design with its angled rear screen and spaciousness with the generous volumes of its luggage area (439 dm3 VDA).
At 4.2 metres in length it is a compact vehicle that builds on the strengths of Clio III in terms of driving pleasure, interior space, comfort, and safety.

The new Renault Clio Estate - Renault's offer for the B-segment market, has been caught testing for the first time in the European Alps. The mule caught testing combines the vehicle's old body to a new front end and, even though it was covered in camouflage, we can still see that the new Clio will adopt a new look; expect to see a new grille incorporating the French manufacturer's logo right in the center.
Despite the fact that the Alps were just covered in snow, Renault engineers still kept busy by doing some testing on the vehicle's brakes. We can't imagine the brakes would need a lot of work considering the Clio is only going to be powered by the milder engines in the current engine line-up. The 1.2 and 1.4 turbocharged tCe four-cylinders will return for the middle ground models, while a new 900 cc three cylinder engine producing 85 HP would be a spunkier alternative for the entry level model. As for the diesel lineup, Renault will be keeping the 1.5 dCi i4 which produces between 75 to 105 HP, but a 1.2 L turbocharged three-cylinder engine delivering 80 and 98 HP may also be in the works.
Ad blocker interference detected!
Wikia is a free-to-use site that makes money from advertising. We have a modified experience for viewers using ad blockers

Wikia is not accessible if you've made further modifications. Remove the custom ad blocker rule(s) and the page will load as expected.