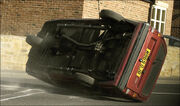 The Reliant Robin Challenge was a challenge set to Jeremy Clarkson that was featured in the 15th series of Top Gear. Jeremy was challenged to drive the Reliant Robin from Sheffield to Rotherham, a journey of 14 miles. During the journey Jeremy rolled the Robin 7 times.
Challenge Overview
Edit
Jeremy set off from a garage in Sheffield and immediately rolled the Robin 20 feet away from the garage. Luckily he was helped back up again by 80s popstar Phil Oakey. After being righted, Jeremy set off, but he rolled over again, but partially. He did get back up without anybody's help by using the door as a lever. He continued driving until the Robin rolls over again. Fortunately, help came to the rescue in the form of lap-dancing bar owner Peter Stringfellow.
He proceeded to roll the Robin yet again before pulling over to chat with 'some enthusiasts'. The enthusiasts suggested putting a sack of cement on the passenger seat so that the weight would be balanced. Jeremy never took up this advice however. Then, he mentioned an advice to protect Robins by painting it with an exotic paint job and drive it more carefully to protect the paint job, but he said that it won't always work because another Robin might crash into it. After that, he explains the population of Sheffield was decreasing due to the Robin's crashes and rolls. Later on his journey, Jeremy was featured on BBC Look North when he rolled in the background of a news report. The reporter (Harry Gration) and the cameraman helped him back up on all 3 wheels. However, shortly after, Jeremy rolled it again.
Jeremy then rolled his Reliant for the 7th time on a cricket pitch whilst a match was on. The players helped him up whilst the umpire (Dickie Bird, MBE) yelled at him. Spurred on by the latest accident Jeremy visited a workshop and installed "anti-capsizers" in the form of two extra wheels at the front of Reliant. With 6 miles left Jeremy felt confident that he would complete the journey. However, his front stabiliser wheels broke on a sharp turn, and his Robin rolled over, crashed upside down into a canal, and sank.
The follow-up
Edit
Later in the same series, Clarkson challenged American rally driver Ken Block to drive a lap of the track in a Reliant Robin. When turning for the first corner, the car tipped over, skidding along its side until it came to a rest. Block was unharmed.
Ad blocker interference detected!
Wikia is a free-to-use site that makes money from advertising. We have a modified experience for viewers using ad blockers

Wikia is not accessible if you've made further modifications. Remove the custom ad blocker rule(s) and the page will load as expected.