Range Rover
Talk

0
358pages on
this wiki
The
Range Rover
is produced by British car maker
Land Rover
. The model, launched in 1970, is n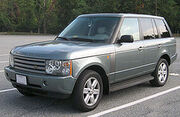 ow in its third generation.
Range Rover
is also being developed by Land Rover as its premium brand, and it is used as a brand name on two other models - the Range Rover Sport and the Range Rover Evoque.
The Range Rover
Edit
First generation (1970-1996)
Edit
The first-generation Range Rover was produced between 1970 and 1996.
The original car was not designed as a luxury-type 4x4, much like other utility vehicles such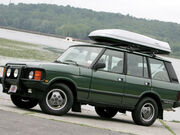 as the
Jeep Wagoneer
of the United States were. While certainly up-market compared to preceding Land Rover models, the early Range Rovers had fairly basic, utilitarian interiors with
vinyl
seats and plastic dashboards that were designed to be washed down with a hose. Convenience features such as power assisted steering, carpeted floors, air conditioning, cloth/leather seats, and wooden interior trim were fitted later.
Second generation (1994–2001)
Edit
After 25 years from the introduction of the first-generation Range Rover, the second-generation Range Rover—model-designation P38A )—was introduced for the 1995 model year, with an updated version of the Rover V8 engines. There was also the option of a 2.5 litre BMW six-cylinder turbo-diesel with a BOSCH injection pump. This was the first Diesel injection with electronic controls in a Land Rover, before common rails were introduced. This was a result of BMW's subsequent ownership of Rover Group and hence the Land Rover brand. The new model offered more equipment and premium trims, positioning the vehicle above the Land Rover Discovery to face the increased competition in the SUV marketplace.
Third generation (2002–present)
Edit
In 2002, the third-generation model was introduced which saw the model move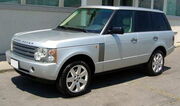 further up-market. Planned and developed under
BMW
ownership the third generation was to share components and systems (electronics, core power units etc.) with the
E38
7 Series
. It was designed to accommodate BMW's M62 V8 engines for future models. The
manual transmission
was dropped entirely, leaving only the
automatic transmission
. The
E38
7 Series electronics system were being phased out during the development of the third-generation Range Rover and being replaced with the electronics from the
BMW E39
5 Series. The entertainment system (Radio Function, Navigation System, Television and Telecommunications systems, as well as the automotive computer bus system) are identical with the BMW E39 5 Series. The third-generation model Range Rover can be upgraded with the newest BMW technologies