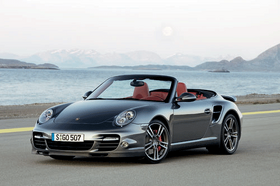 The Porsche 911 Turbo Cabriolet is the convertible version of the Porsche 911 Turbo. This car holds the fastest lap-time across Top Gear Russia's test track, with a time of 1:12.00, faster than the Nissan GT-R and Aston Martin V8 Vantage Roadster.
The Turbo Cabriolet was essentially the same as the 911 Turbo, having the same engine, and rear spoilers and also has AWD. The engine produced 414 horsepower, but the X50 package produced 444 horsepower. According to reviewers, this is one of the greatest Porsche cars ever made.
Ad blocker interference detected!
Wikia is a free-to-use site that makes money from advertising. We have a modified experience for viewers using ad blockers

Wikia is not accessible if you've made further modifications. Remove the custom ad blocker rule(s) and the page will load as expected.