Off road challenges are a recurring type of episode of Top Gear US in which the presenters go off roading in different types of vehicles. The first off road challenge was the ninth episode of the first season of Top Gear US, titled America's Toughest Trucks in which the presenters went off roading in Alaska using second hand trucks. So far, there has been one off roading challenge/episode per part of season (i.e. there are two total in season 2; one aired in part 1 and one aired in part 2). 
America's Toughest Trucks
Edit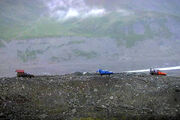 The presenters set out to find America's toughest truck by taking three second hand vehicles off roading in America's toughest state: Alaska. Along the way the presenters will be faced with challenges even the most modern off roading trucks would struggle to handle. The presenters will also have to sleep in their truck, adding accomodation to their vehicles before setting off.
Death Valley
Edit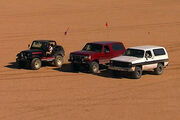 The presenters set out to find America's best 4x4 by buying three second hand 4x4s and setting off on an off-road journey throught the beautiful but harsh Death Valley. The presenters are told that their tires cannot touch pavement for the majority of their journey forcing the boys to think of some ingenious solutions to cross tarmac along the way. Their trip culminates in a race to the Trump Casino with the little fuel the presenters have left.
Continental Divide
Edit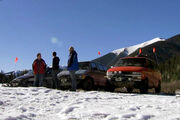 The presenters set out to find the best second hand covered wagon in America by buying a trio of these cars online and meeting up at the foot of the Rockies for a journey over the Continental Divide. Along their journey the boys must haul livestock, put their cars in an ice rink, and find a way to cross a freezing cold lake before finally taking their cars off road and over the mountains
Monument to Moab
Edit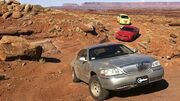 Do you really need a specially built off roading machine to go off road? The presenters don't think so, and to prove their point they purchase three of the most common rental cars and head off for a journey across the rough Utah desert. At the end of their journey the presenters are faced with the toughest challenge of them all. A straight drop off the side of a cliff.
Viking Trucks
Edit
The people of Iceland have built the ultimate snow conquering machines the only problem is that they're not American. To prove to the locals that American trucks still have what it takes to conquer the world the presenters each buy a second hand American off roader and attempt to reach the fertile ground of an active volcano.