Noble is currently producing a new car under the name of the Noble M600. It will have a Volvo twin-turbocharged V8 engine (producing 650 bhp (485 kW; 659 PS)), a carbon fibre body shell, and a 6-speed gear box. It will compete in the same category as the Ferrari F430. It has been announced that it will have a carbon fibre body shell and a 6-speed gear box.
Noble has released official pictures of the Noble M600 and revealed it will have a top speed of 225 (theoretical) mph. The 2,800-pound (1,300 kg) M600 can accelerate from 0-62.1 mph (100 km/h) in 3.5 seconds and require only another 4 seconds to achieve 100 mph (160 km/h). It has over 1G of grip on the skid pad. The brake disks in the Noble M600 are steel. The Noble comes with no ABS or ASM and TC as those features will be optional, making the Noble M600 a pure driver's car. The British supercar will cost around £200,000 when it hits the market and only 50 will be made annually.
Recently, Noble publicly tested an M600 prototype 2 in the USA, comparing its performance with a Porsche Carrera GT and Ferrari Enzo. This prototype was detuned to 500 bhp (373 kW; 507 PS).
On Top Gear
Edit
The Noble was also featured on the fifth episode of the 14th series of Top Gear, in which Jeremy complained of its lack of features but was astonished by its power and acceleration. The Noble posted an impressive Power Lap time of 1:17.7 around the Top Gear test track with The Stig behind the wheel on a cold winter day.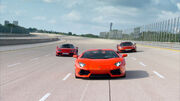 Also, the M600 featured in Series 18, Episode 1, where Richard uses it in a trip across Italy to find an ideal replacement if you didn't want to buy a Ferrari 458. It was the fastest and most economic, but it broke down after 25 miles of driving so Noble themselves drove a replacement car across Europe in 1 night. Richard denied he had another car, claiming he had just painted it black and got a new numberplate.