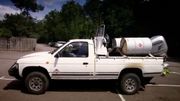 The Nissank was the second amphibious car created by former Top Gear UK presenter Jeremy Clarkson. Jeremy modified a 1996 Nissan D21 pick-up truck to create the Nissank. It competed in the Amphibious Car Challenge 2 against fellow presenter Richard Hammond's Dampervan Mk.II and James May's Triumph Herald sailcar, which was extremely similar to his car in Amphibious Car Challenge. The Amphibious Car Challenge 2 was part of Series 10, Episode 2. The Nissank is now displayed at the World of Top Gear in National Motor Museum, Beaulieu, and is valued at 2.3 million pounds.
The Nissank is based on the principle of having a powerful engine attached in the back of a pickup truck, used by it's predecessor, the Toybota. To prevent the Nissank from sinking like the Toybota, Jeremy attached some empty barrels in the back for stability, welded the car more thoroughly to prevent water entering the cabin and also added a hull and a keel. In addition to the anti-sink attachments, Clarkson kept two large fishing rods, to wait for James May in case he gets lost.
The Challenge
Edit
The challenge was to cross the English Channel and arrive at Calais, France from Dover, England. All the three cars entered the water, and the Dampervan's engine could not keep up with the rough seas and started to sink, and James May was washed ashore and got stuck. Jeremy drove the Nissank vigorously into the water, causing it to sink, but he then managed to straighten it. Just like the last challenge, Jeremy rescued Hammond and took him abroad as crew. Soon, James was also rescued by Jeremy.
With the three presenters aboard in the Nissank, they all united and set a course for Calais, avoiding massive oil tankers, ferries, cruise ships and cargo ships in the Channel. But the presenters only managed to arrive in Sangatte, France. Part of the challenge was to break the record set by Richard Branson for crossing the Channel in an amphibious vehicle, but none of them managed to do so.
Ad blocker interference detected!
Wikia is a free-to-use site that makes money from advertising. We have a modified experience for viewers using ad blockers

Wikia is not accessible if you've made further modifications. Remove the custom ad blocker rule(s) and the page will load as expected.