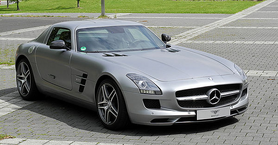 The Mercedes-Benz SLS AMG was a luxury GT car built by the German automobile manufacturer, Mercedes-Benz from 2010 till 2014. The Mercedes-Benz SLS AMG was built by Mercedes-Benz's in-house tuning company, Mercedes-AMG. The SLS AMG is a front-mid engine, rear-wheel drive grand tourer, and it's the first car designed entirely by Mercedes-AMG, and the last Mercedes-Benz car to use a naturally aspirated engine. The SLS AMG was replaced by the less expensive Mercedes-AMG GT.
This car is a successor, both to the Mercedes-Benz SLR McLaren and the Mercedes-Benz 300SL Gullwing, since it has a similar layout to the SLR McLaren, and features gull-wing doors, like the 300SL. SLS stands for 'Sport Light Super'.
The SLS AMG features a 6.2 liter M159 DOHC V8, and and has a 7 speed clutch-automatic transmission with a transaxle. The SLS develops 563 horsepower and 650 N·m of torque.
The SLS AMG appears in Top Gear USA's Season 1 Episode 4 and was tested by Adam Ferrara. Ferrara praises the car's engine sounds, gullwing doors and performances, he dislikes the rear of the SLS, and thanks to it's stiff suspension, it isn't good for city driving. The SLS AMG is then given to the The Stig who sets a time of 01:27.6 in the Top Gear USA Test track.
The car was also featured in Top Gear UK's East Coast Road Trip, driven by Jeremy Clarkson as part of Series 15. Due to the car becoming 'tail happy', Jeremy Clarkson had to change the rear tyres two times, and the car did not carry a spare tyre. Clarkson managed to beat the other presenter's cars, the Ferrari 458 Italia and the Porsche 911 GT3 RS in the drive-by shooting challenge, thanks to it's gull-wing doors (and Jeremy's semi-automatic rifle). The SLS AMG failed to beat the 458 Italia in a slippery surface drag race, and in a race in New York City.
The roadster variant was featured in Series 18, Episode 2 and managed to a lap time of 01:19.6 in the Top Gear test track, being faster than a Nissan GT-R, Ferrari F430 Scuderia, the SLS AMG Electric Drive and even a Porsche Carrera GT and a Lamborghini Murciélago.