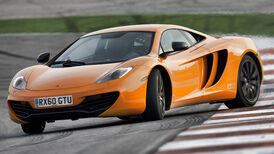 The
McLaren MP4-12C
is a supercar built and designed by McLaren automotive, which originally launched in 2011. It is the first car McLaren has wholly made since the McLaren F1 from 1998. The MP4-12C was actually developed and tested at Top Gear's Dunsolf test track and is the third fastest car on the power laps board behind only the
Ariel Atom
and the Pagani Huayra. McLaren reports that the top speed of the MP4-12C is 207 m/h, approximately 333 km/h. Jeremy Clarkson reviewed the car on the Top Gear test track in the
seventeenth series
of Top Gear.
Appearances on Top Gear
Edit
As stated above, the McLaren MP4-12C was featured in the powertest for the third episode of series seventeen of Top Gear, in which Jeremy Clarkson reviewed the car during the power test segment.
The MP4-12C was also featured in Top Gear's Italian Supercar Road Trip in the show's eighteenth series. James May drove the car across Italy insisting throughout the entire journey that his car was the best of the three but conceded that it wasn't as good as the Ferrari 458 Italia.
Jeremy drove a convertible version of the MP4-12C in the third episode of Top Gear's twentieth series as part of a film in which the boys journey across Southern Spain.
The MP4-12C will also be featured in an upcoming episode of Top Gear US's fourth series. The presenting team of the show were seen filming in New York with the car alongside a Lamborghini and a Dodge Viper.
Ad blocker interference detected!
Wikia is a free-to-use site that makes money from advertising. We have a modified experience for viewers using ad blockers

Wikia is not accessible if you've made further modifications. Remove the custom ad blocker rule(s) and the page will load as expected.