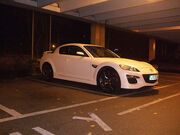 The Mazda RX-8 is a sports car manufactured by Mazda Motor Corporation. It first appeared in 2001 at the North American International Auto Show. It is the successor to the RX-7 and, like its predecessors in the RX range, it is powered by a rotary engine. The RX-8 began North American sales in the 2004 model year.
On Top Gear Edit
This car was reviewed in Season 3 on Episode 5.
Ad blocker interference detected!
Wikia is a free-to-use site that makes money from advertising. We have a modified experience for viewers using ad blockers

Wikia is not accessible if you've made further modifications. Remove the custom ad blocker rule(s) and the page will load as expected.