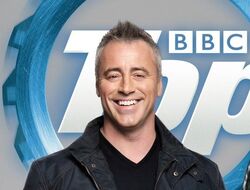 Matt LeBlanc is an American actor who is the lead presenter of Top Gear. LeBlanc is best known, outside of Top Gear, for his role as Joey Tribbiani on 90s sitcom, Friends. LeBlanc first joined Chris Evans' new line-up on the twenty-third series of Top Gear. LeBlanc's position in the new line-up was announced on the 4th of February, 2016, about a week before his co-presenters, Rory Reid, Sabine Schmitz, Eddie Jordan, and Chris Harris, were announced. However, following Evans' departure from the show in July 2016, it was announced that LeBlanc would not only continue his work on the show but would replace Evans as the new lead presenter. On October 2016, LeBlanc recently played as Adam Burns in CBS sitcom Man with a Plan.
Previous Appearances
Edit
LeBlanc first appeared in the second episode of Top Gear's eighteenth series as the Star in a Reasonably-Priced Car. His lap time of 1:42.1 beat previous record holder Rowan Atkinson's time by 0.1 seconds, and earned him a top spot amongst all celebrities and the fastest times of all four cars used for the segment.
He returned in the fourth episode of the show's nineteenth series to test the new version of the Kia Cee'd, which was show in Jeremy Clarkson's film entitled the "Thorough Cee'd Test". In it, he posted a fastest lap time of 1:47.0 in the old model and 1:45.2 in the new model, confirming that the new version was faster.
Other Top Gear Work Edit
In 2016, LeBlanc hosted a BBC America special, Top Gear: The Races, which highlighted the best races that aired between the first and twenty-second seasons of the show.
Work as Host of Top Gear Edit
LeBlanc has been a prominent figure in the shooting of the twenty-third series of Top Gear. He has filmed in London with Ken Block, visited Morocco to test the Ariel Nomad, filmed a USA v UK segment with Evans in Blackpool, and filmed in South Africa and Lesotho with Evans and Eddie Jordan. He continued to star in the show's twenty-fourth series and has been photographed filming for the forthcoming twenty-fifth series.
So far, as a presenter, he has starred in 13 episodes of Top Gear.
He, along with Sabine Schmitz and Eddie Jordan, are the first non-British hosts of the show since its revival in 2002. LeBlanc is American.