Home
Talk

7
420pages on
this wiki
Top Gear USA, Season 4 Finale Next Week
Top Gear Burma and Thailand Special Coming December 2013
Welcome to the Top Gear wiki, an online resource for everything Top Gear that anyone can edit.
Top Gear is a BAFTA, multi-NTA and International Emmy Award-winning BBC television series about motor vehicles, mainly cars. It began in 1977 as a conventional motoring magazine show. Over time, and especially since a relaunch in 2002, it has developed a quirky, humorous style. The show is presented by Jeremy Clarkson, Richard Hammond, James May and The Stig, an anonymous test driver. The programme is estimated to have 385 million viewers worldwide. In 2007 it was one of the most pirated television shows in the world.... Read more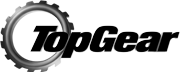 Released from History Channel:
Season 4 debuts this September on the History Channel. One of the UK's most popular series since 1977, Top Gear now brings its high-adrenaline action entertainment to America. The series tracks the colorful history of the automobile and showcases an offbeat celebration of the art of driving, featuring super-cars, extreme stunts and challenges, car reviews and celebrity interviews, as well as the eccentric adventures of its hosts with Top Gear's customary wit and humor. Hosted by comedian and car buff Adam Ferrara, champion rally and drift racer Tanner Foust and racing analyst Rutledge Wood, Top Gear explores the history of America, one lap at a time. Read about this new series





The Stig is the name given to multiple anonymous race car drivers, who are featured in Top Gear. Currently, the Stig is a white version, as the black Stig, featured in series 1 & 2, had been "killed off" on the HMS Invincible.
There are also several other versions of the Stig, such as the American Big Stig, and the African Stig, referred to as the Stig's African cousin. Read more



For a long list of polls, see Top Gear Wiki:Polls
Which Top Gear series is the best?

Create blog post
Blogs
The fourth season premiere of Top Gear US is almost here. Will you be watching?

Read more >

Hi everyone, me again

Well, that's another season of Top Gear gone and it's probably the last episode of Top Gear we will see in 2013, unless they give us a Christmas special (hoping for that). What d…

Read more >

Hi guys,

Just thought I'd let everyone know that today the 400th page was created on the wiki. That is awesome! The page was Thorough Cee'd Test from series 19 of the show. Let's get the page count up…

Read more >
See more >
Affiliate(s)
Autopedia, the free auto encyclopedia