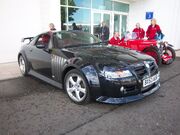 The MG SV was what the MG's revamp had largely been about. There had been new sports cars, hatchbacks and saloons, but this was the modern MG. It was a fast 2-seater coupé. Sadly, it wasn't a success and after only 50 models being built from 2004-05, MG was bought out by an American family.
Specifications
Edit
Engine: Front mid
Drive: Rear wheel
Transmission: 5-speed manual
Performance: Top speed 165 m.p.h.,
0-60 m.p.h. in 5 seconds
Ad blocker interference detected!
Wikia is a free-to-use site that makes money from advertising. We have a modified experience for viewers using ad blockers

Wikia is not accessible if you've made further modifications. Remove the custom ad blocker rule(s) and the page will load as expected.