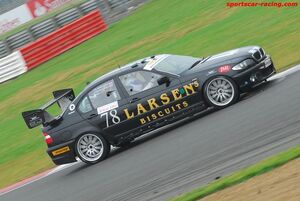 Larsen's Biscuits was a fake sponsor for the BMW 330d that was used during the Britcar 24 hour endurance race in the 10th series of Top Gear. Larsen's Biscuits was created by Richard Hammond whilst Jeremy created the other fake sponsor (Peniston Oils). Once the doors of the BMW were opened Larsen's Biscuits turned into 'arse biscuit' as the positioning of the logo on the car allowed the letters to be dissected from each other.
Ad blocker interference detected!
Wikia is a free-to-use site that makes money from advertising. We have a modified experience for viewers using ad blockers

Wikia is not accessible if you've made further modifications. Remove the custom ad blocker rule(s) and the page will load as expected.