Land Rover is a British car manufacturer based in Gaydon, Warwickshire, United Kingdom. It specializes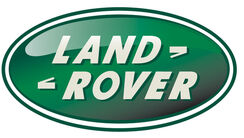 in 4x4 and luxury cars and has had many cars featured and reviewed by
Top Gear
. Land Rover was founded in 1948 in the United Kingdom.
On Top GearEdit
Land Rovers first appeared on Top Gear in Episode 10 of Series Two, for a reliability challenge. The first review of a Land Rover was in Series 5, Episode 3 when Jeremy Clarkson attempted to climb a mountain in Scotland using a Land Rover Discovery. The challenge was successfully completed (with some difficulties) and the Land Rover generally gained praise.
In Series 6, Clarkson reviewed the Range Rover Sport and challenged it against a British Challenger II tank. Clarkson lost as the tank finally managed to get it's Gunsight trained on the Range Rover. The most recent appearance of a Land Rover car on the show was during Series Fourteen, Episode 4, when the Range Rover 2010MY was reviewed. The presenters have given many Land Rover cars high praise; the Range Rover was given the accolade of Top Gear Car of the Year award in 2002.
Ad blocker interference detected!
Wikia is a free-to-use site that makes money from advertising. We have a modified experience for viewers using ad blockers

Wikia is not accessible if you've made further modifications. Remove the custom ad blocker rule(s) and the page will load as expected.