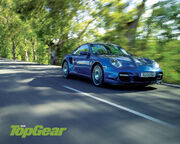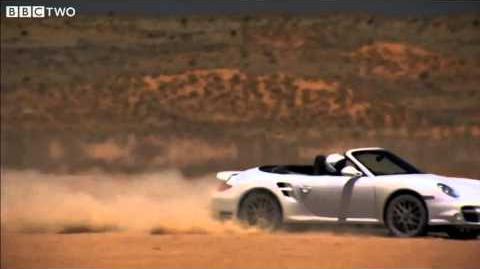 Johannesburg (AKA "Jo'burg")is a city in South Africa and the site of two Top Gear challenges.
Richard Hammond visited the city with a Marauder to conduct a road test, and a Porsche 911 to compete in a race.
Films in Jo'burg
Edit
Paramount Marauder
Edit
Hammond road tested the Marauder armoured vehicle in South Africa. He conducted numerous 'everyday' tests throughout numerous locations in the city (i.e. visits to McDonalds, a coffee shop, a supermarket etc).
Porsche Vs. Gravity
Edit
Hammond also subjected a Porsche 911 Turbo to a race against a VW Beetle; the Beetle being powered only by the force of gravity. The Beetle would be dropped from a height of 1 mile off the ground while Hammond (in the 911) would drive 1 mile. The Porsche lost the race by around 2 - 3 seconds. Hammond blamed the loss of traction on the dirt surface he was driving on. The race was featured in series 16.
Ad blocker interference detected!
Wikia is a free-to-use site that makes money from advertising. We have a modified experience for viewers using ad blockers

Wikia is not accessible if you've made further modifications. Remove the custom ad blocker rule(s) and the page will load as expected.