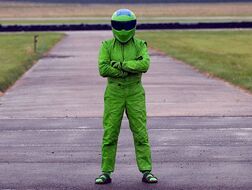 Series 14 of Top Gear Introduced "The Stig's Vegetarian Cousin", Janet Stig-Porter. This incarnation of The Stig wore all green overalls and similarly-coloured Diamondback Helmet, featuring solar panel stickers on top, as well as green socks, in Birkenstocks. This Stig was apparently killed by the poisonous diesel exhaust, when testing the Top Gear electric car, the Hammerhead Eagle i-Thrust around a circuit in Series 14, Episode 2.
Ad blocker interference detected!
Wikia is a free-to-use site that makes money from advertising. We have a modified experience for viewers using ad blockers

Wikia is not accessible if you've made further modifications. Remove the custom ad blocker rule(s) and the page will load as expected.