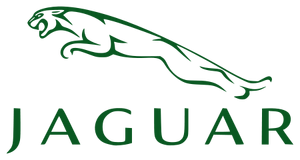 Jaguar Cars is a large British luxury car company, based in Coventry, England. Jaguar is responsible for making many famous and iconic cars such as the Jaguar E-Type, Jaguar XJ, Jaguar XK and Jaguar XK120. It is currently a subsidiary of Indian company Tata Motors Ltd. and part of the Jaguar Land Rover business.
Cars on Top GearEdit
Jaguar today makes several luxury cars that have been featured on Top Gear. In Series Two Episode 4, the Jaguar R Coupe was reviewed as well as the Jaguar XKR coupe. In Series 3 Episode 3, the Jaguar XJ6 saloon was reviewed and during Series 4, the XK-R sports coupe, XJS coupe and X-Type Estate were all reviewed on the show.
In Series 8, Jeremy Clarkson reviewed the second-generation Jaguar XK against the Mercedes-Benz CLK and BMW 6-Series and found the Jaguar was a far better (and better looking) car then its German counterparts. In the next series, the same car was reviewed alongside the Aston Martin V8 Vantage and in Series 10 Jeremy Clarkson reviewed the Jaguar XF, claiming it to be 'as good as' a BMW M5.
Many older Jaguars have made appearances on the show, with the XK120 participating in and winning the special Race to the North and the Jaguar E-Type has also been reviewed on the show. The Jaguar XJ also won the Top Gear Ownership survey in 2003.
Ad blocker interference detected!
Wikia is a free-to-use site that makes money from advertising. We have a modified experience for viewers using ad blockers

Wikia is not accessible if you've made further modifications. Remove the custom ad blocker rule(s) and the page will load as expected.