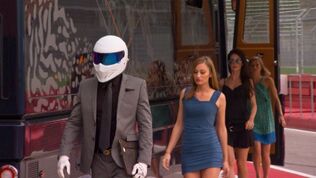 In Series 18, episode 1, the Stig's Italian cousin, nicknamed "Bunga Bunga Stig", was featured in smart casual dress (grey suit and trousers, black shirt and tie) but still with the iconic shoes and white helmet, seen emerging from a motorhome with three women following him out, prompting Clarkson to ask "What's he been doing?". He drove a Ferrari 458 Italia around the racetrack at Imola which the presenters had to beat in their own supercars.
Ad blocker interference detected!
Wikia is a free-to-use site that makes money from advertising. We have a modified experience for viewers using ad blockers

Wikia is not accessible if you've made further modifications. Remove the custom ad blocker rule(s) and the page will load as expected.