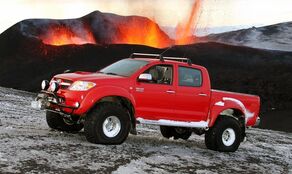 The Icelandic Volcano Hilux was an invention of James May's. May used the camera crew's Hilux, used during the filming of the North Pole Special, to drive up to the side of an active icelandic volcano. May fitted a corrugated sheet of metal on top of the car (so that the lava didn't go through the roof) and a cooling system which was a hose spraying water onto the tires (although James claimed it was Vodka). James drove the Hilux right up to the mouth of the volcano and successfully picked up a piece of lava as a souvenir for Jeremy and Richard, which he presented to them back in the studio. This film aired in series fifteen of Top Gear as part of the season's first episode.
Ad blocker interference detected!
Wikia is a free-to-use site that makes money from advertising. We have a modified experience for viewers using ad blockers

Wikia is not accessible if you've made further modifications. Remove the custom ad blocker rule(s) and the page will load as expected.