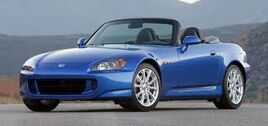 The Honda S2000 was a roadster manufactured by Honda. It was first shown as a concept car at the Tokyo Motor Show in 1995, but was released in 1999. It was created to celebrate Honda's 50th anniversary.
First shown at the Toko Motor Show in 1995, this was the basis of the S2000.
The first model to be released was the AP1. It had a 1,997 cc engine with 237 hp. It was available as a softop or aluminum hardtop.
In 2004, the AP2 was released by Honda. This time, it had a 2,157 cc engine. The redline was reduced from 9,000 to 8,000 rpm.
Ad blocker interference detected!
Wikia is a free-to-use site that makes money from advertising. We have a modified experience for viewers using ad blockers

Wikia is not accessible if you've made further modifications. Remove the custom ad blocker rule(s) and the page will load as expected.