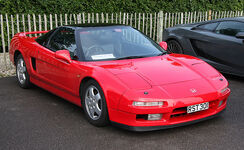 The Honda NSX (Acura NSX in America or Hong Kong) was a sports car manufactured by Japanese company Honda, usually associated with family cars. Production began in 1990 and continued until 2005. F1 legend Ayrton Senna played a big part in the design, but despite this Honda only sold six European ones in their first year.
Ad blocker interference detected!
Wikia is a free-to-use site that makes money from advertising. We have a modified experience for viewers using ad blockers

Wikia is not accessible if you've made further modifications. Remove the custom ad blocker rule(s) and the page will load as expected.