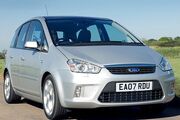 The Ford C-Max (Called Ford Focus C-Max Till 2007) is a 5-Seat MPV made by Ford from 2003-Present. It is Ford's rival to cars like the Renault Scenic. Originally called the Ford Focus C-Max, it was described as "The Best Handling People Carrier On The Road" by Autocar, the same people who tested the Hammerhead Eagle i-Thrust. Engines were a 1.6 litre, 1.8 litre and 2.0 litre. James described it as "Sporty", and Richard said it had a Brilliant Heater and A Cracking Stereo.
Top Gear Appearances
Edit
The only time it appeared on Top Gear was when Richard Hammond and James May posed as minicabbers to test the C-Max and Renault Scenic. Top Gear couldn't figure out the point of it, saying "The fencer couldn't fit her stuff in the Scenic's boot, and The Tall Man still had headroom problem in the C-Max". Although they did come to a decision, If they were going to have on, they would have the Scenic.
Mk.2 (2011-Present)
Edit
In Late 2010, Ford launched a brand new shape C-Max, and a 7-Seat version called the Grand C-Max, which had Sliding Doors, as well as an all new range of engines.
Ad blocker interference detected!
Wikia is a free-to-use site that makes money from advertising. We have a modified experience for viewers using ad blockers

Wikia is not accessible if you've made further modifications. Remove the custom ad blocker rule(s) and the page will load as expected.