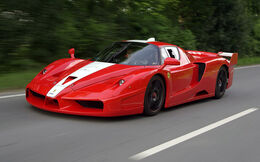 During the racing sessions, the driver reports back to the Ferrari engineers, mechanics and designers to commment on the car's performance and say how they think the car could be improved. The events are held at tracks in Europe but also ones as far afield as Japan or North America. During the process, the driver becomes an intimate part of Ferrari's testing programmes.
There has currently not been a review of the FXX; only a lap time. It posted a rather impressive time of 1.10.7 round the Top Gear Test Track. The car was driven by German F1 driver Michael Schumacher, disguised as The Stig. This is not surprising, because the FXX featured was his actual car. After revealing himself as Stig, the presenters decided that he probably wasn't the tame racing driver, owing to his poor performance in the Reasonably Priced Car.
Specification
Edit
Years produced: 2005-2007
You can analyse minute details of the car's performance using advanced data monitoring.
Cool factor
Edit
FXX Evoluzione
Edit
The Evoluzione is a kit that can be fitted to the FXX, which features more power and faster gearchanges.
Specifications:
Years produced: 2008-2009
Engine: 6.3L, naturally aspirated V12
0-100 km/h: 2.5 seconds
Power: 860 bhp
Max. Speed: over 420km/h
Gearshift time: 60 milliseconds (a 20 millisecond reduction)
If Ferrari invited you to buy one they didn't call you an 'owner', they called you a 'client test driver', which, technically, you would be.
All the information from the onboard computers will be used to design future Ferraris.
The tyres are very big at 19 inches but they are road legal. Unfortunately, the car itself isn't.