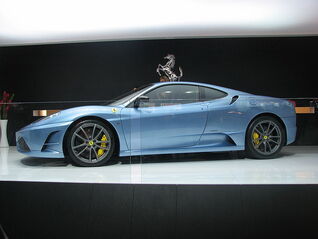 The F430 Scuderia is another light-weight, basic . It has no carpet, radio or sat nav. The Scuderia is the result of a standard
F430
going on a crash diet so that it ends up 100 kg lighter. Ferrari thought that for providing you less they would charge you more, as is the case with many lightweight supercars, leading
Jeremy
to say that eventually someone will walk past a showroom with no car at all and get charged £1,000,000.

But it's not all like that, for it comes with improved engineering to make the car handle better. For example it has an undertray giving it spectacular road-holding. This means you gain grip as you speed up, and grip is quite useful if you give the F430 Scuderia the opportunity to reach its top speed of 198 mph. Ferrari claims that around their test track, Fiorano Circuit, it is faster than a Ferrari Enzo.
On Top Gear
Edit
When tested on Top Gear Jeremy Clarkson said "It appears to have been welded together by apes", referring to the exposed metalwork. He then said that 'Scuderia' was a "silly name", as it translates as 'team'. However, he also said that it was a knife-edge racer, which is how a Ferrari should be. He was deeply impressed with its performance, and said that it blew away any Lamborghini. When given to The Stig to take round the Top Gear Test Track, it completed the circuit in an impressive 1 minute 19.7 seconds - as fast as the Nissan GT-R, but faster than the Mercedes-Benz SLR McLaren (1:20.9) and the Porsche Carrera GT (1:19.8). However, it was still slower than the Lamborghini Gallardo LP560-4 (1:19.5).
Statistics
Edit
Years produced: 2007-present
Engine: normally-aspirated V8
The transmission software is called 'superfast'.
Cool factor
Edit
It has an excellent racing stripe.
The computer allows a gear change to be completed in 60 milliseconds
Jeremy thinks the front looks like a dopey smiley face, but still liked the car a lot.
Even the wing mirrors are made of carbon fibre.
'Scuderia' is Italian for 'team'.
Ad blocker interference detected!
Wikia is a free-to-use site that makes money from advertising. We have a modified experience for viewers using ad blockers

Wikia is not accessible if you've made further modifications. Remove the custom ad blocker rule(s) and the page will load as expected.