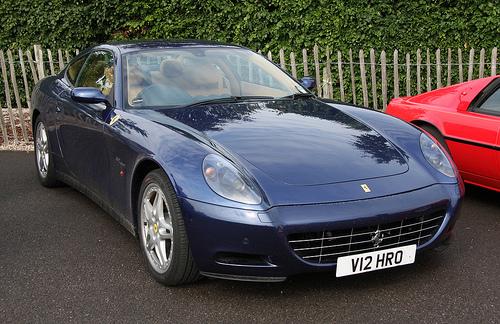 The Scaglietti was conceived as a Grand Tourer in which to cruise through sunny mountain ranges and absorb the atmosphere of southern Europe. Oh, it's not bad at racing either. It proved this when
Jeremy
took one to Verbier, Switzerland against
James
and
Richard
in a commercial aeroplane. Jeremy went through many Swiss tunnels all through the captivating scenery of the Alps that the Ferrari fitted in with beautifully. And he was quite pleased with it.

Because, in the whole of Ferrari's history, the 612 is the largest road car they've made it clearly wasn't designed for raw speed. It was, however, a delightfully comfy car, making it the ideal choice for an 11-hour drive. Jeremy wasn't anywhere near as comfortable whilst he was waiting for James and Richard to arrive, despite sitting in the outdoor jacuzzi.
Specification
Edit
Years produced: 2004-present
The Bose 2 DIN Radio-Navigator comes with a satellite radio, Satellite Navigation , a DVD player, a built in rear-view camera and an onboard TV tuner.
Cool factor
Edit
Its rivals are the Bentley Continental G.T., the Mercedes CL600 and the Aston Martin DB9. And it's faster than all of them.
There are two-tone paint jobs available in every conceivable colour and combination.
The chassis and body frame are all aluminium, an idea thought up Ferrari.
Ad blocker interference detected!
Wikia is a free-to-use site that makes money from advertising. We have a modified experience for viewers using ad blockers

Wikia is not accessible if you've made further modifications. Remove the custom ad blocker rule(s) and the page will load as expected.