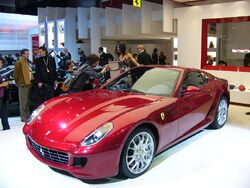 The Ferrari 599 GTB Fiorano is a Grand Tourer produced by Ferrari. It replaced the Ferrari 575M Maranello in 2006 and is still being made to this day. The engine produces 612 bhp making it the most powerful series production Ferrari road car of its time.
Ad blocker interference detected!
Wikia is a free-to-use site that makes money from advertising. We have a modified experience for viewers using ad blockers

Wikia is not accessible if you've made further modifications. Remove the custom ad blocker rule(s) and the page will load as expected.