One day
Ferrari
thought 'the 550 Maranello is good, but we can make it better'. The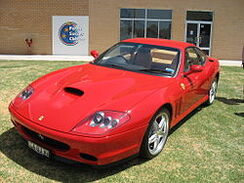 result was this - the 575M Maranello. It was upated so it had huge 19-inch wheels, a brand new carbon fibre silicone carbide braking system, better weight distribution and more POWER!
Jeremy tested it against an Aston Martin Vanquish and the Ferrari won every test it and the Aston took part in.
The Power Lap After getting off to a sluggish start The Stig soon sped up, achieving an impressive 1.26.8.
Specification
Edit
Years produced: 2002-2006
Engine: V12 0-62m.p.h.: 4.2 seconds Power: 533 bhp Max. speed: 203 mph
The 575M has a G.T.C. handling pack to help with road-holding.
Cool factor
Edit
It was released at the same time as one of Ferrari's best modern F1 cars.
'M' stands for 'Modificata', meaning modifications.