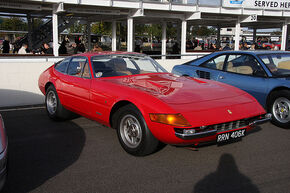 If you are a Christian you may believe that God created the world in seven days, quite an impressive feat. The Daytona was also created in seven days, a very impressive feat. You were expected to pay for this impressiveness, though, because the Daytona was the most expensive
Ferrari
ever at its launch in 1968.

Some fans weren't impressed because it was rather primitive with its engine in the front compared to the Lamborghini Miura. But speed junkies wouldn't complain about that because an engine in the front meant the Daytona could achieve 174 m.p.h., faster than the Miura.
Specification
Edit
No gadgets in the 1960s. Unfortunately.
Cool factor
Edit
It was the fastest production car in the world, beating the Miura by two miles per hour.
There was also a very nice black covertible in Miami Vice.
Only the doors, bonnet and boot lid were made of light alloy. Everything else was hand-formed and hammer-welded small sections of steel.
The raked vent window and door pillars complemented the raked windscreen.
It's called the Daytona in honour of the Ferrari 330P4's triple win at the Daytona 24hr race.
Ad blocker interference detected!
Wikia is a free-to-use site that makes money from advertising. We have a modified experience for viewers using ad blockers

Wikia is not accessible if you've made further modifications. Remove the custom ad blocker rule(s) and the page will load as expected.