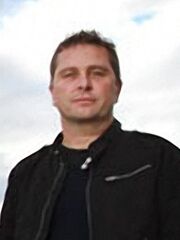 Ewen Page was a presenter on the now cancelled Top Gear Australia, an Australian version of the original BBC Top Gear. Page joined the presenting team alongside Shane Jacobson and Steve Pizzati for the third season of Top Gear Australia and continued as a member of the presenting team until the following season when the show was cancelled.
Top Gear AustraliaEdit
Series 3, Episode 1
Edit
During the first episode of the third season of Top Gear Australia the presenters were told to reiterate the journey completed by David Norrish in the 70s. Ewen drove a Ford XB Falcon 500 and succesfully made it to Lake Eyre without too many issues (although he almost got stuck on mountainside due to his powerless car).
Series 3, Episode 2
Edit
During the second episode of season three, Ewen (and the other presenters) participated in the Race to the Skiy hill climb in New Zealand. He completed the task. Also, Ewen decided to see if it was possible to drive a V8 through Sydney. He ended up getting stuck a couple of times and caused a traffic jam on the Sydney Harbour Bridge.
Series 3, Episode 3
Edit
During the third and final episode of season three the presenters were told to complete a Grey Nomad trip on a tight budget. Ewen bought a 1983 Range Rover and destroyed it on a testing facility track. He subsequently ripped off the roof of the Range Rover and completed the rest of the journey sleeping with no protection. Later, Page's Range Rover over heats and Jacobson (a fellow presenter) was forced to town him in his truck. After a communications breakdown, the two almost cause a crash. They do eventually complete the challenge.