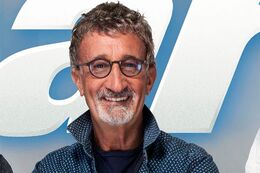 Edmund Patrick Jordan, better known as Eddie Jordan, is an Irish former motorsport team owner, businessman and a musician. He was also the lead analyst on Formula One coverage on the BBC from 2009 to 2015. He is currently one of the presenters on Top Gear.
In February 2016, it was announced that he would co-present Top Gear's twenty-third season, along with Chris Evans, Matt LeBlanc, Sabine Schmitz, Chris Harris and Rory Reid.
Eddie was the owner of the former Formula One constructor team, Jordan Grand Prix.
He, along with Matt LeBlanc and Sabine Schmitz, are the first non-British hosts of the show since its revival in 2002. Jordan is Irish.
Ad blocker interference detected!
Wikia is a free-to-use site that makes money from advertising. We have a modified experience for viewers using ad blockers

Wikia is not accessible if you've made further modifications. Remove the custom ad blocker rule(s) and the page will load as expected.