The ERF EC11 was the HGV that Richard Hammond drove during the lorry driving challenge (Series 12 Episode 1)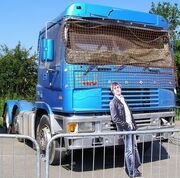 The lorry driving challenges:
During the personalising stage of the challenge, Hammond had painted the truck in blue and had added a front bonnet in the form of a dog kennal. The truck had also reached an astonishing 90mph on the Millbrook proving ground high speed bowl. The EC11 was later destroyed when Richard drove the lorry through a portakabin at 56mph.
Overview:
The ERF EC11 had an 11 Litre engine and a 6 axle configuration. Hammond's truck was the Day Cab version and was considered as 'A Caterham of the lorry world'.
Ad blocker interference detected!
Wikia is a free-to-use site that makes money from advertising. We have a modified experience for viewers using ad blockers

Wikia is not accessible if you've made further modifications. Remove the custom ad blocker rule(s) and the page will load as expected.