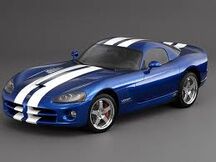 The Dodge Viper is one of the first V10-powered cars in the world, made by the Dodge division of Chrysler. Production of the two seat sports car began at New Mack Assembly in 1991 and moved to its current home at Conner Avenue Assembly in October 1995. The car, and numerous variations, has made many appearances in TV shows, video games, movies, and music videos. Although Chrysler considered ending production because of financial problems, chief executive Sergio Marchionne announced and showed on September 14, 2010 a redesign of the Viper for 2012.
Ad blocker interference detected!
Wikia is a free-to-use site that makes money from advertising. We have a modified experience for viewers using ad blockers

Wikia is not accessible if you've made further modifications. Remove the custom ad blocker rule(s) and the page will load as expected.