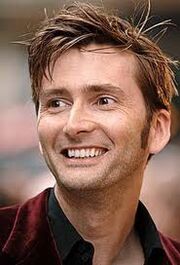 David Tennant
(born David John McDonald) is a Scottish actor who was the 10th actor to appear on
Doctor Who
as the title character known as 'The Doctor'. As such, his character is often called the
Tenth Doctor
.
He appeared on the show just before the airing of the 2007 Christmas Special, Voyage Of The Damned, and briefly discussed it. He also claimed on the show that Billie Piper (who plays his first companion, Rose Tyler) cheated during her lap by cutting the track (which she actually did, cutting out Hammerhead and being on the wrong side of Chicago's line, prompting the Stig to recommend a 3-second penalty), yet Jeremy did not penalise her. He was not happy at Jeremy's leniency, which prompted Jeremy to explain that he hadn't enfored the penalty because she was wearing a see-through top. As it turns out, his time would have beaten Piper's time had the penalty been enforced. He currently holds the third fastest time by a Doctor Who major star behind Piper and Matt Smith (the Eleventh Doctor.)
| | |
| --- | --- |
| Name: | David Tennant |
| Occupation: | Actor |
| Best lap time: | 1:48.8 |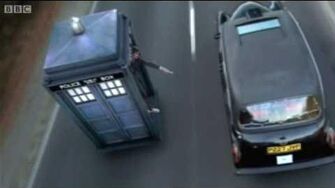 In 2008, he also became the star of an official Doctor Who/Top Gear mashup video as the BBC's Simon Catt inspired Matt Taylor of the network's Repeats and Reversioning team to combine David's Top Gear lap with TARDIS clips from Doctor Who. The end product was a video that used the audio and studio clips of David's lap with commentary from both David and Jeremy and the Doctor Who opening theme in the background, but instead of showing the Lacetti and David at the wheel, it featured clips of the TARDIS in flight and David as the Tenth Doctor at the controls, with the footage including the highway chase in "The Runaway Bride" (the 2006 Christmas Special) and the bumpy landing "across the line" in the Powell Estate street in "The Christmas Invasion" (the 2005 Christmas Special.) It was dubbed "Star in a Reasonably Priced TARDIS" or "Doctor Who Meets Top Gear."
Catt and Taylor's boss Gill Holmes not only liked it, but was so impressed that he forwarded it to Mark Harrison, Head of the BBC's Multiplatform Studio. From there, it went even further to Peter Salmon, Chief Creative Officer of the BBC Vision Studio - who was due to visit the Top Gear team soon. He showed the clip to Jeremy and Andy Wilman - and they loved it and gave it their blessing to post online.
For more info on David Tennant, see the following entries:[1]
Ad blocker interference detected!
Wikia is a free-to-use site that makes money from advertising. We have a modified experience for viewers using ad blockers

Wikia is not accessible if you've made further modifications. Remove the custom ad blocker rule(s) and the page will load as expected.