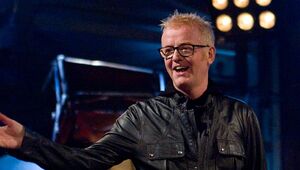 Chris Evans is a British television presenter and producer for radio and television content for the BBC and was the lead presenter on the BBC Two motoring show Top Gear for series twenty-three. Known for presenting TFI Friday, The One Show, and his BBC Radio 2 show, Evans was hired as the new lead presenter on Top Gear early in 2015, taking the reigns from Jeremy Clarkson whose contract wasn't renewed due to an assault towards a member of the Top Gear staff. Evans was planned to be the show's host for three years, but quit the show after facing heavy scrutiny from fans and critics after one series. He was joined on the twenty-third series of Top Gear by Matt LeBlanc, racing driver Sabine Schmitz, YouTube star Chris Harris, F1 pundit Eddie Jordan and motoring journalist Rory Reid, all of whom will continue in his absence.
Appearances and Work on Top Gear
Edit
Evans first appeared in the ninth episode of the show's sixth series, in the Star in a Reasonably-Priced Car segment. Evans set a time of 01:47.90 around the Top Gear test track in the show's reasonably priced car at the time, the Suzuki Liana. Evans later returned in the third episode of the show's fourteenth series in the SIARPC segment. On that occasion Evans set a time of 1:48.10, although this time he was using a Kia Cee'd and was running the course in the wet.
Evans has also appeared on the show outside of the SIARPC segment. Evans appeared in the seventh episode of the show's eighteenth series when he lent James May his rare Ferrari 250 GT California for a test drive.
Evans was the show's lead host for the show's twenty-third series, a total of six episodes. Evans featured prominently throughout all of these shows, being featured in the main films for each episode, completing the interviews for the SIARCC segment, and doing the voice-over work for the opening sequence of the show. However, though his contract was for three years of the show, Evans quit the show following the airing of the series twenty-three finale after weathering a storm of criticism from fans and critics alike.
Upon quitting, Evans became the shortest serving host of the show with only six shows under his belt, succeeding Jason Dawe who presented just ten episodes of the show's first series before being replaced by James May. He also became just the third host in the show's history to quit the show, following Richard Hammond and James May's departure from the show the year earlier. He was replaced as the lead presenter on the show by Matt LeBlanc.