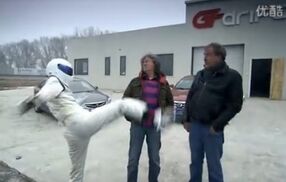 Introduced in the second episode of series 18, during the visit to China. This version of the Stig is a martial artist and attacks James May and Jeremy Clarkson after kicking down a door. He then attacks the film crew before getting in James' and Jeremy's Chinese cars to post lap times. He also attacks a number of marshalls working at the track and finally kicks James in "the plums". He was mentioned as "The worst Stig we've ever had" by Jeremy.
Ad blocker interference detected!
Wikia is a free-to-use site that makes money from advertising. We have a modified experience for viewers using ad blockers

Wikia is not accessible if you've made further modifications. Remove the custom ad blocker rule(s) and the page will load as expected.