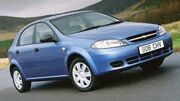 The
Chevrolet Lacetti
was the new Reasonably Priced Car after the old
Suzuki Liana
.
Best Moments
Edit
The Lacetti very nearly set an indoor speed record at the ExCel Centre in the Lodon Docklands before they tried it with a Toyota F1 car. Some guests said it was the best or worst car they had ever driven. The fastest celeb to drive the little Lacetti was Jamiroquai singer Jay Kay with a time of 1.45.8. The new Lacetti was even more powerful than the old Liana. The slowest person was comedian Jimmy Carr who spun off on a timed lap! He ended up with a bitterly disappointing time of 2.08.1. The Lacetti was given a hero's funeral when it was crushed underneath some industrial chimnies being demolished by Richard Hammond. It was replaced by the Kia Cee'd and the crushed remains now sit proudly in the World of Top Gear at the National Motor Museum, Beaulieu, Hampshire.
Ad blocker interference detected!
Wikia is a free-to-use site that makes money from advertising. We have a modified experience for viewers using ad blockers

Wikia is not accessible if you've made further modifications. Remove the custom ad blocker rule(s) and the page will load as expected.