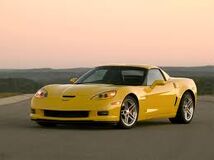 The Chevrolet Corvette (C6) is a sports car produced by the Chevrolet division of General Motors introduced for the 2005 model year. The current generation Corvette is the first with exposed headlamps since the 1962 model. Variants include the ZR1, the most powerful production Corvette to date, and the C6.R, an American Le Mans Series GT1 championship and 24 Hours of Le Mans GTE-Pro winner. According to Motor Trend magazine, the current sixth generation Corvette will not be superseded at least until the 2012 calendar year.
Ad blocker interference detected!
Wikia is a free-to-use site that makes money from advertising. We have a modified experience for viewers using ad blockers

Wikia is not accessible if you've made further modifications. Remove the custom ad blocker rule(s) and the page will load as expected.