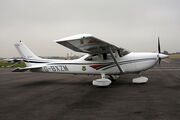 G-BXZM is the registration of the Cessna 182 that James and Richard flew in during a race with Jeremy in the Bugatti Veyron. They raced from Alba in Italy to Tower 42 in London (Natwest). Jeremy considered the pair Captain 'Captain Slow' and 'Hammond Hand Luggage'. Richard considered the 182 to actually cost £182, with Clarkson calling it a 'flying washing machine'.
The challenge
Edit
Starting from Alba in Italy, Richard and James were to race Jeremy in a Bugatti Veyron to Tower 42 in London. James had recently gained his Private Pilot's License (PPL) in a Super Decathlon, but had also undertaken training in the Cessna 182. 
During the race, James had to detour around the med to avoid Mount Blanc (that annoyed Richard!) The flying pair had to stop for fuel once, but had to make an unannounced landing in Lille, due to the fact that James had not undertaken the training to fly the aircraft at night. They had to continue the journey using the Eurostar train and a London Bus.
Jeremy had won with the Bugatti, and with Richard witnessed James fall asleep; mocking him for being a pilot.
Major Incident
Edit
Since the race in 2008, the Cessna sustained major damage in 2011 due to a forced landing impact. Once on the runway, the aircraft's propellar scraped along the runway; severely damaging the propellar, engine and fuel tank. The aircraft is currently in storage for repair at White Waltham Airfield, Berkshire.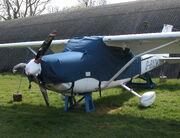 Ad blocker interference detected!
Wikia is a free-to-use site that makes money from advertising. We have a modified experience for viewers using ad blockers

Wikia is not accessible if you've made further modifications. Remove the custom ad blocker rule(s) and the page will load as expected.