Caterham Seven

| | |
| --- | --- |
| Manufacturer | Caterham Cars |
| Production | 1973-Present |
| Predecessor | Lotus 7 |
| Class | Sports Car |
| Body style(s) | Open 2 Seat |
| Transmission(s) | Close Ratio 6 Speed |
| Curb weight | 515 kg (1,135 lb) |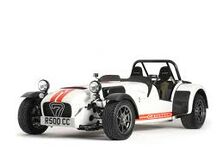 The Caterham 7 is a super-lightweight kit car produced by Caterham Cars in the UK. Its predecessor was the Lotus 7, a car sold in kit and fully assembled by Lotus Cars, from the late 50s to the early 70s. In 1972, Caterham bought the rights to the 7 off Lotus and now sell it in kit or as a whole car.
In Top Gear Edit
The Caterham 7 appeared in series 8 episode 7, when Jeremy, Richard and James had to build one before The Stig drove a ready-built one down from the factory. The lads won as The Stig got stopped by the police.
Ad blocker interference detected!
Wikia is a free-to-use site that makes money from advertising. We have a modified experience for viewers using ad blockers

Wikia is not accessible if you've made further modifications. Remove the custom ad blocker rule(s) and the page will load as expected.