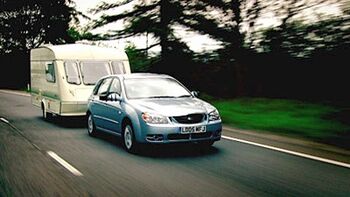 The Caravan Holiday was a challenge that occurred during the sixth episode of Series 8 of Top Gear.
The Boys of wanted to find out why caravanners cause traffic jams and other annoying stuff in the road, so they decided to have a caravan holiday. The journey started off in the Top Gear Studio in Dunsfold Airfield, Clarkson introducing the chosen caravan, an Elddis Shamal XL, while Hammond and May are preparing for the trip by attaching the Caravan to the back of the chosen Kia and installing a pair of extra mirrors to Kia's doors. They set off to their caravan site in Dorset and on the way they discuss more effective tow cars than the Kia. With the car towing the caravan, May cannot go above 30mph, causing rather large queues behind them. After a short while, they cannot hold the shame so they pullup the road to allow motorists to pass, with the trio saying sorry to every passing vehicle. They eventually pullover to have lunch by the side of the motorway, although once lunch is finished, Clarkson placed the plates on the caravan's worktops, causing them to smash once they move off again.
They soon had to stop at a petrol station to fill up and to comfort Top Gear Dog, who threw up because of her phobia of cars, Clarkson buys an LED sign to put in the back window of the caravan to say that James is driving. On leaving the petrol station, May crashed the Caravan into a bollard. They then bicker, until they reach Dorset, when Hammond did not know the name of the site and May made a wrong turn and have to make a U-turn. But they could not make it until they attract the Police. When Clarkson and Hammond saw the police car, they decided to escape. The police then questioned the trio and let them go. Once they arrive on the site, May let Clarkson, Hammond and the dog out so he can back it up, but destroys the a caravan support. Hammond and the dog get "kidnapped" by an elderly female fan, but she lets them go. As they set stuff around, Hammond finds an AK-47 inside and it was revealed to be Clarkson's. The next morning, Hammond's shower was interuppted by when the water ran out and went for more. Then things went bad until eventually Clarkson eventually "accidentaly" set fire to the caravan while cooking chips and couldn't extinguish it as Hammond wasted all the water on his hair. Once they are back on the studio, they sum up things by saying once they were on power, they decided to ban caravanning.