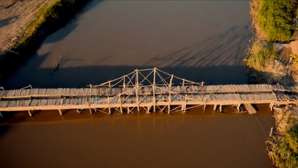 The Bridge over the River Kok was a river bridge that was built by the entire production crew of Top Gear, including the show's three presenters, with the help of numerous Thai locals over the River Kok in Northern Thailand. It was the final challenge in Top Gear's two-part Burma Special, the final and penultimate episodes of the show's twenty first series. The bridge was constructed from bamboo, rope, rocks, and wire over a period of a week as the final challenge in Top Gear's Burma Special, which saw the presenters travel across Burma and Thailand in three lorries. Once the bridge had been constructed all three of the presenters were challenged to each drive their lorries over it in order to complete their journey.
After several days of construction, Jeremy Clarkson discovered that they were not at the right river. The challenge had been to build a bridge over the River Kwai, which flows through the Kanchanaburi Province in the western region of Thailand. According to the on-screen map, the trio had entered Thailand from the north and were building the bridge across the Kok River, which flows from Burma easterly to Mueang Chiang Rai in Thailand, where it turns northwest to join the Mekong. The River Kok is several hundred miles north of the River Kwai.
Ad blocker interference detected!
Wikia is a free-to-use site that makes money from advertising. We have a modified experience for viewers using ad blockers

Wikia is not accessible if you've made further modifications. Remove the custom ad blocker rule(s) and the page will load as expected.