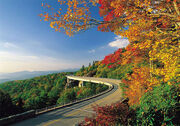 The Blue Ridge Parkway is a road in the states of North Carolina and Virginia in America. It was also the starting point of the East Coast Road Trip. The Top Gear UK presenters were sent there after they were told it was 'the best road in the world'. They started on top of the parkway and introduced their cars to each other before going for a 'blast' on the road. However, they were unable to really critique the road as the speed limits held them back. They eventually got bored of the road and started their journey towards New York.
Ad blocker interference detected!
Wikia is a free-to-use site that makes money from advertising. We have a modified experience for viewers using ad blockers

Wikia is not accessible if you've made further modifications. Remove the custom ad blocker rule(s) and the page will load as expected.